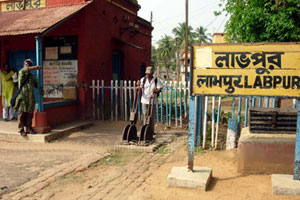 Labpur is located at 23°50′N 87°49′E and 23.83°N 87.82°E. It has an average elevation of 35 m (115 ft). Labpur (also spelt Labpur) (Bengali: লাভপুর), is a town with a police station in Bolpur subdivision of Birbhum district in the state of West Bengal. Known to the outside world as the native place of Tarashankar Bandopadhyay, and located on the archaic narrow gauge railway, it is an extensive rural area subject to droughts in summer followed by occasional floods.
It is located on the Suri–Phutishanko (The SH6) road and is about 12 km from Ahmedpur on the Railway. One pair of trains run daily along the 52 km Ahmedpur – Katwa narrow gauge (2' 6") line. It has remained a single line since its inception. Indian Railways took over the narrow gauge tracks between Katwa and Ahmedpur, and Katwa and Bardhaman from McLoyd and Company in 1966. The railways have identified poor turnout of passengers and their unwillingness to buy tickets as the reasons behind the losses incurred by the narrow gauge section. But this narrow gauge section was extended to broad gauge in the year 2015.
The bus terminal is very good with every kind of modern facility. It is adjacent of Labpur Sambhu Nath College & Block Development Office. Labpur is well connected with the important part of the district.
Tarashankar Bandopadhyay, the eminent Bengali writer, was born at Labhpur on 23 July 1898. He passed matriculation from Labhpur in 1916. He wrote 65 novels, 53 story-books, 12 plays, 4 essay-books, 4 autobiographies and 2 travel stories. A notable man of wisdom, he was awarded Rabindra Puraskar, Sahitya Akademi award, Jnanpith Award, and Padma Bhushan.
Many of his novels and stories carry vivid descriptions of the area. In the novel Hansulibanker Upkatha, he writes, "The Hansulibank countryside is somewhat rough land. Here, man's fight is more with land, than that with rivers. When drought comes, in extreme summer, the river becomes a desert, it is a land of sand – only deep water somehow manages to weave a narrow way through it. The land then is transformed into rock. The grass dries up. The land heats up as if it is a piece of heated-up iron."
Nearby places
Fullara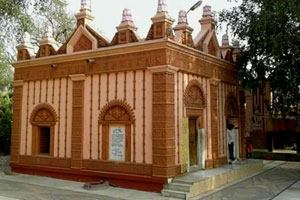 According to mythology, when Mahadeva danced around with Sati's dead body cutting it to pieces, the lip fell at Fullara. There is a big pond beside the temple. According to hearsay, Hanuman collected 108 blue lotuses from the pond when Sri Ramachandra required them for the worship of goddess Durga. It is considered to be one of the fifty-one shakti peethas in India.
Kankalitala
Kankalitala (Bengali: কঙ্কালীতলা) is a temple town in Bolpur subdivision of Birbhum district. It is located about 9 kilometers (5.6 mi) from Bolpur on the Bolpur–Labhpur road.It is situated on the bank of the Kopai River. It is a gram panchayat under Bolpur-Sriniketan block. It is one of the Shakti Peethas where the waist (or kankal in Bengali) of Parvati fell. There are several temples in the town.